Breast Biopsy is a diagnostic method which involves removal of breast tissue or liquid from the suspected area by Breast Doctor. It is done to determine if any growth in the breast in cancerous. Removed tissues or liquid are then tested for presence of cancerous cells by our breast specialist doctor in Dubai.
There are two main types of breast biopsy: –
Needle Biopsy – in this procedure, tissues or liquid are removed through a needle
Surgical Biopsy – in this procedure, an incision is made in the breast to remove a tissue.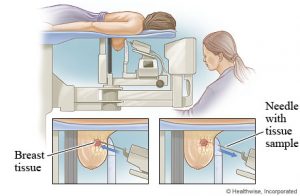 As per our Breast Specialist Dubai, biopsy is the only definite procedure for determining the presence of cancer in the area. It is after the biopsy results that a breast doctor is able to determine the course of treatment.